| | | |
| --- | --- | --- |
| | | Paramount Pictures Corporation Prop Money - Indian Vignette |
Beautifully engraved 20 Dollar Movie Prop Paper Money from the Paramount Pictures Corporation . This historic bill was printed and kept by the Ellis Mercantile Company for use in motion pictures over the years. The note has an ornate border around it with vignettes of an Indian Chief and it says Paramount Pictures Corporation on the front and back. These look terrific and hard to find. We have not seen many of these.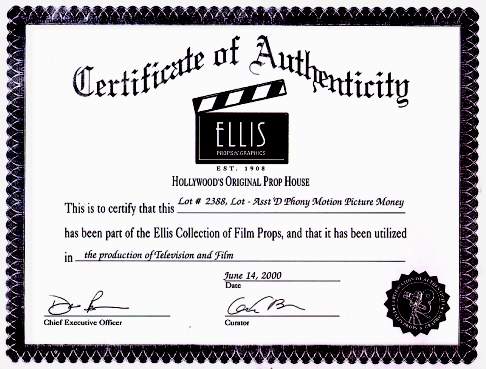 Certificate of Authenticity
from Ellis Props


This is a very unique item that combines old paper money with Hollywood Movies. We will include a copy of the Certificate of Authenticity from Ellis Props and Graphics with every order.
This note is prop money that was made for movies and used by major studios for Motion Picture and TV Productions. These notes were acquired from Ellis Props & Graphics who was the oldest (since 1908) and largest prop supply house in Hollywood until closing their doors last year.
If you have ever been involved in Movie or TV Production in Los Angeles, it is almost certain you've had dealings with Ellis Props and Graphics Partners, or Ellis Mercantile as most old-timers call it. Ellis Mercantile was established as a pawn shop in 1908. When a customer needing a glass eye for one of the earliest movie productions suggested that he rent the glass eye instead of purchasing it, the rental business was started. Over the years, Ellis props have been used on countless famous movies and well-known TV productions. Ben-Hur, Cleopatra, Spartacus, The Titanic, Get Smart and Wild Wild West to name but a few.
Ellis, owned by the Tapestry Group, last year closed shop, due to failing profits combined with runaway production concerns. Over five days in early June 2000, nearly a century worth of movie props were auctioned off at the Universal Hilton and via the Internet. Everything from Ellis' 40,000 square feet of props went on the block. Attendees could bid on antiques and collectibles such as an operating Gatling gun from circa 1872, used in Clint Eastwood's The Outlaw Josey Wales, life preservers from The Titanic, the baby carriage from De Palma's The Untouchables, light sabers from Star Wars, the umbrella phone from Get Smart, as well as movie used
real prop money
which we acquired.
Scripophily.com and Old Company Research Press Releases


See Stock Certificate Expert Bob Kerstein, CEO Scripophily.com
discuss Stock Certificates in Bloomberg , the Associated Press ,
CNBC with Jane Wells discussing the Facebook IPO,
Inside Edition and the Today Show
Subscribe to our New Free RSS New Products Feed in a Reader
Subscribe to Our New Product Additions Feed by Email
We will always maintain our founding commitment to customer satisfaction and the delivery of an exceptional product with an enjoyable shopping experience. Please let us know how we may be of service to you. Stay Safe!!!

Note: All Old Stock and Bond Certificates are actual authentic certificates and are sold only as collectibles. We do not sell reproductions and offer a lifetime guarantee to the authenticity of everything we sell.


All Rights Reserved. © 1996 - 2021

American Institute of
Certified Public Accountants


Virginia Society CPA's
Bob Kerstein, Member






American Numismatic Association

Securities and Exchange
Commission Historical Society

Society of Paper Money Collectors
Member

Better Business
Bureau Member
Rated A+