Beautifully engraved certificate from the Long Beach Bath House and Amusement Company issued in 1942. This historic document was printed on heavy paper and has an embossed corporate seal. This item is hand signed by the Company's President, Samuel Knight Rindge and is over 79 years old.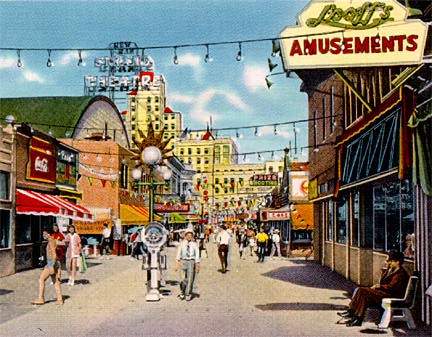 Long Beach, California was founded in 1880 as Willmore City and was incorporated in 1888. The town grew as a seaside resort and then as an oil, navy, and port town.
When the Henry E. Huntington built the Pacific Electric line to Long Beach, the Long Beach Bath House and Amusement Company announced plans to build a bath house on the beach near the end of the street car line.
In those early years, with the opening of the Bath House, Long Beach boasted the only institution of the kind within a radius of many miles. As this and other attractions were added, people from inland began to flock to Long Beach to pass the weekends at the beach city, and many who came thus to play remained as residents.
The Long Beach Bath House and Amusement Company next constructed a boardwalk 12 feet long along the beach and later a 15 foot walk replaced the smaller one until eventually the present 35 foot cement walk was constructed."15
Subsequently, the area became known as the Pike and was Long Beach's entertainment center for both local residents and tourists. Visitors could rent swimming suits, change their clothes in the bath house and swim in the ocean or later in a heated, indoor, salt-water plunge. They could also ride a roller coaster or other rides, eat lunch or dinner, purchase specialty items, attend movies or vaudeville shows, dance in ballrooms or just sit and watch their fellow citizens.
The Long Beach Pike was considered to be the West Coast's Coney Island. It operated from 1902 -1969. It featured some of the worlds most innovative rides and roller coasters.
June 1907 The first roller coaster on the Pike opens for business. A variety of other rides and amusements, including Ferris wheels and merry-go-rounds, would follow over the years as the Pike grew to include a bustling midway.
1911 First carousel comes to the Pike.
May 1, 1915 Jackrabbit Racer roller coaster opens for business, replacing smaller coaster taken down in 1914. An amusement pier, most often called Silver Spray Pier, is built next to the coaster at the foot of Cedar Avenue.
Memorial Day 1930 The Cyclone Racer roller coaster opens to the public, replacing the Jackrabbit Racer.
1932 The 8,000-seat Municipal Auditorium, surrounded on three sides by a lagoon, and Rainbow Pier open to the public. The half-circular Rainbow Pier, arching from Pine Avenue to Linden Avenue, surrounds the auditorium and the lagoon.
1934 Pine Avenue Pier suffers storm damage and is closed.
July 17, 1943 Carousel burns down. Another is built.
1948 The Silver Spray Pier is demolished at the foot of Cedar Avenue.
1949 Amusement zone expands on beach between Pine and Cedar avenues and is dubbed Nu Pike.
1954 The Pike is listed as one of the five largest amusement zones in the country, with 218 concessions.
1966 The Plunge bath house closes.
1967 City purchases famous Queen Mary luxury cruise liner to be docked in Long Beach as tourist attraction and hotel.
September 15, 1968 Last day of operation for the Cyclone Racer, which was later demolished.
1974 California Coastal Commission hands over control of downtown and shoreline redevelopment to the City.
1975 Demolition begins on Municipal Auditorium and bandstand area to make way for the Convention & Entertainment Center.
1976 Bob Kerstein, the founder of Scripophily.com graduated from California State University, Long Beach.
1979 The Pike officially closes.
THE RINDGE FAMILY
Frederick Hastings Rindge was the only surviving son of six children of the Rindge family of Cambridge, Massachusetts. In 1883 he inherited his father's estate which was in excess of $2 million. Four years later he married 22-year old Rhoda May Knight, and in the same year they moved to California.
In 1892 Frederick Hastings Rindge and May K. Rindge, the fourth and last owners of the entire Malibu Rancho, purchased this 13,330-acre Spanish Land Grant. They later expanded the ranch to 17,000 acres. It was the paradise Mr. Rindge had searched for in all his travels throughout the United States and Europe.
With the purchase of Rancho Malibu, Mr. Rindge realized his dream of the ideal country home: "A farm near the ocean, under the lee of the mountains, with a trout brook, wild trees , a take, good soil, and excellent climate, one not too hot in summer." He built a large ranch house in Malibu Canyon (beneath present-day Serra Retreat) to serve as a headquarters for his Malibu Rancho. It was a working cattle and grain-raising ranch which through the many years of the Rindge dynasty was to become one of the most valuable large real estate holdings in the United States.
The Rindge family consisted of three children:
Samuel Knight Rindge
, Frederick Hastings Rindge, Jr., and Rhoda Agatha Rindge. Their town residence was at 2263 Harvard Boulevard in Los Angeles and their ranch home was in Malibu Canyon which they visited on week-ends and parts of the summer when they were not vacationing in Marblehead, Massachusetts.
Their idyllic days came to an abrupt stop two years later when Frederick Hastings Rindge died at the age of 48. He had accomplished much during his relatively short life. Soon after moving to California he donated land and funds to his native city of Cambridge, Massachusetts, for a public library, a city hall and an industrial school which later became known as the Rindge Technical School. In California he founded the Conservative Life Insurance Company which is now Pacific Mutual. He was a vice-president of Union Oil Company and a director of the Los Angeles Edison Electric Company (later Southern California Edison Company). His land investments included reclamation of bottom lands near Stockton and real estate holdings in the San Fernando Valley, in Los Angeles, and in the state of Sinaloa, Mexico.
As a staunch supporter of the temperance movement, Frederick Hastings Rindge was an unrelenting foe of the "Demon Rum." He agreed to reimburse the treasury of the city of Santa Monica any deficit caused by the loss of saloon license fees when Santa Monica abolished saloons. He was President of the Harvard Club of Los Angeles and a member of many historical, archaeological, patriotic, and religious organizations which mirrored his interests. He established the First Methodist Episcopal Church of Santa Monica and wrote several books which were spiritual and meditative in nature.
May Knight Rindge had been a school teacher in Trenton, Michigan with a strong religious upbringing and beliefs. Following her husband's death in 1905 she took over the management of her husband's business affairs including the Malibu Ranch. She was involved in a number of bitter battles over nearly a quarter of a century in trying to keep Malibu intact. Her indefatigable spirit in these controversies earned her the legendary title of "Queen of the Malibu" from the press.
At the beginnings of her struggles, she was a widow with three teenage children. Toward the end, when the Coast Highway finally was built through her ranch, she was a 65-year old grandmother still intent on having a self-sustaining kingdom by the sea. To this end she started construction in 1928 of a great 50-room house on "Laudamus Hill" in Malibu Canyon overlooking the sea. There were to be three wings included; one for each of her three children and their families.
May K. Rindge died on February 8, 1941.
Histories from City of Long Beach and Mailbu websites