Historic RARE certificate #26 from the Boston Base Ball Association issued in 1872. This historic document and has an ornate border around it and is signed by the team's President and founder ( Ivers W. Adams ) and Treasuer ( H. Gardner ). This is one of the earliest Professional Baseball teams. Left margin cut into border, light folds in thirds with light toning on bottom, otherwise EF. The certificate was issued to G. Foster White for five shares of stock. This is on the second time we have had a certificate from the Boston Base Ball Association.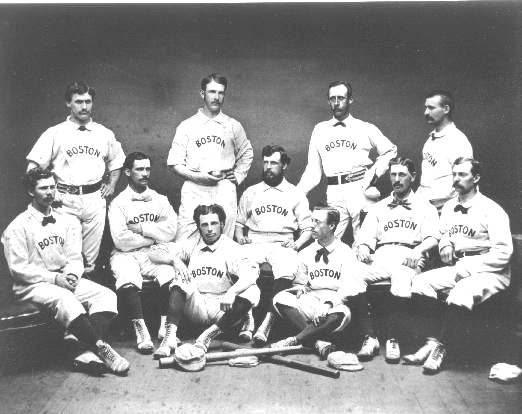 Early Team Photo - Boston Base Ball Association known as the Boston Red Stockings





Established on January 20, 1871, the Boston Red Stockings was one of the eight original members of the National League. The team was orgnized as the Boston Base Ball Club with $15,000 in common stock at $100 a share.

They won six of the first eight pennants and in 1875 they won twenty-six games in a row along with every single home game at the Union Baseball Grounds in South Boston. In 1883, in order to tie their identity to Boston and to avoid confusion with the Cincinnati Reds of the American League, the Red Stockings change their name to the Beaneaters. By 1912 the Boston began to be called the Braves.

Ivers W. Adams was the founder and first president of the Boston Base Ball Club but only remained in the position for a year. Adams' bringing baseball to Boston was contingent on signing Harry and George Wright from Cincinnati. Adams thought the Wright's were upstanding gentlemen, and therefore, the right men to represent Boston in baseball.


Scripophily.com and Old Company Research Press Releases


See Stock Certificate Expert Bob Kerstein, CEO Scripophily.com
discuss Stock Certificates in Bloomberg , the Associated Press ,
CNBC with Jane Wells discussing the Facebook IPO,
Inside Edition and the Today Show
Subscribe to our New Free RSS New Products Feed in a Reader
Subscribe to Our New Product Additions Feed by Email
We will always maintain our founding commitment to customer satisfaction and the delivery of an exceptional product with an enjoyable shopping experience. Please let us know how we may be of service to you. Stay Safe!!!

Note: All Old Stock and Bond Certificates are actual authentic certificates and are sold only as collectibles. We do not sell reproductions and offer a lifetime guarantee to the authenticity of everything we sell.


All Rights Reserved. © 1996 - 2021

American Institute of
Certified Public Accountants


Virginia Society CPA's
Bob Kerstein, Member






American Numismatic Association

Securities and Exchange
Commission Historical Society

Society of Paper Money Collectors
Member

Better Business
Bureau Member
Rated A+