Beautifully engraved Specimen certificate from the American Steel Casting Company datd 189_. This historic document was printed by American Bank Note and has an ornate border around it with a vignette of a bald eagle holding a shield and United States flag. The certificate has a small cut in the upper center white border as shown in the scan, otherwise EF. This is the first time we have had this certificate for sale.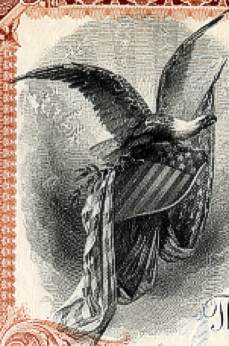 Certificate Vignette
The Standard Steel Casting Company, commonly referred to as Thurlow Works, was a steel production and steel casting facility founded in Chester, Pennsylvania in 1883 by shipbuilder John Roach. The company was established primarily to supply steel ingots for Roach's steel mills, which included the Chester Rolling Mill and the Combination Steel and Iron Company, although it also manufactured steel castings. Standard Steel was the first company in the United States to manufacture commercial quantities of steel utilizing the acid open hearth process.
Roach relinquished majority ownership of the company in 1884 to Robert Wetherill. In subsequent years, Thurlow Works made a name for itself as a manufacturer of large steel castings, especially for the railroad industry. America's first cast steel locomotive frames were poured at Thurlow in 1893.
The Standard Steel Casting Company was merged with several other steel casting companies in 1892 to become the American Steel Casting Company. The American Steel Casting Company was itself merged some years later to form one of America's largest steel companies, American Steel Foundries.
History from Wikipedia and
OldCompany.com
(old stock certificate research service)
---
About Specimens
Specimen Certificates are actual certificates that have never been issued. They were usually kept by the printers in their permanent archives as their only example of a particular certificate. Sometimes you will see a hand stamp on the certificate that says "Do not remove from file".
Specimens were also used to show prospective clients different types of certificate designs that were available. Specimen certificates are usually much scarcer than issued certificates. In fact, many times they are the only way to get a certificate for a particular company because the issued certificates were redeemed and destroyed. In a few instances, Specimen certificates we made for a company but were never used because a different design was chosen by the company.
These certificates are normally stamped "Specimen" or they have small holes spelling the word specimen. Most of the time they don't have a serial number, or they have a serial number of 00000. This is an exciting sector of the hobby that grown in popularity and realized nice appreciation in value over the past several years.